G&G
is on hiatus.
Tony Brasunas, founder and editor-in-chief, has spent the past five years researching the failing and flailing American media corporations, and has now published in 2023 a groundbreaking new book, Red White & Blind: The Truth About Disinformation and the Path to Media Consciousness.
Editing G&G largely formed Brasunas's views on the American corporate media, from the problems of censorship to the perils of the consolidation of the media under the control of five amoral corporate behemoths. While researching the book, he learned so much more, from the history of propaganda that began with Edward Bernays in the 1920s to the revelations of the Church Committee about Operation Mockingbird in the 1970s to the systematic censorship on social media here in the 2020s. It has never been more important to develop media consciousness.
Get your copy or read a free excerpt: RedWhiteAndBlind.com >
Try out Brasunas's recommendation:
The Balanced Media Diet >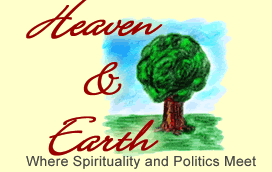 any people fervently hope for world peace, consciously pray for health, or faithfully meditate on the possibility of a better world. These are important activities. Many people fight passionately, tooth and nail, with dedication, for one or more particular political issues. This too is important. It is easy, however, to become disillusioned when we do not see concrete results of our hopes and prayers; and it is easy to grow exhausted without the sustaining energy available through a spiritual awareness. What isn't always easy, yet has enormous potential to bring about social change and human evolution, is bridging the gap between our spirituality and our politics. To envision the change we need with our whole heart and soul, and to ground every vision in effective, concrete, progressive action. This issue of G&G explores that nexus where spirituality and politics meet.

U P D A T E S :
F E A T U R E S:
R E S O U R C E S:



More Information
The Network of Spiritual Progressives, Spiritual Greens, Sojourners, Muslim-Jewish-Christian Alliance for 9-11 Truth, and more...

"Sentiment without action is the ruin of the soul."
- Edward Abbey